Description
A new type of perfume balm that allows you to enjoy the scent sensibly. Experience the scent freely and express yourself anywhere with the handy-sized Perfume Balm. With a soft texture, if you gently apply it to your pulse-beating wrists or under your ears, you can feel the fragrance gently spreading by your body temperature. The iconic Perfume Balm design expresses the extended perfume persona in a mirrored form of a part of Tamburines Perfume.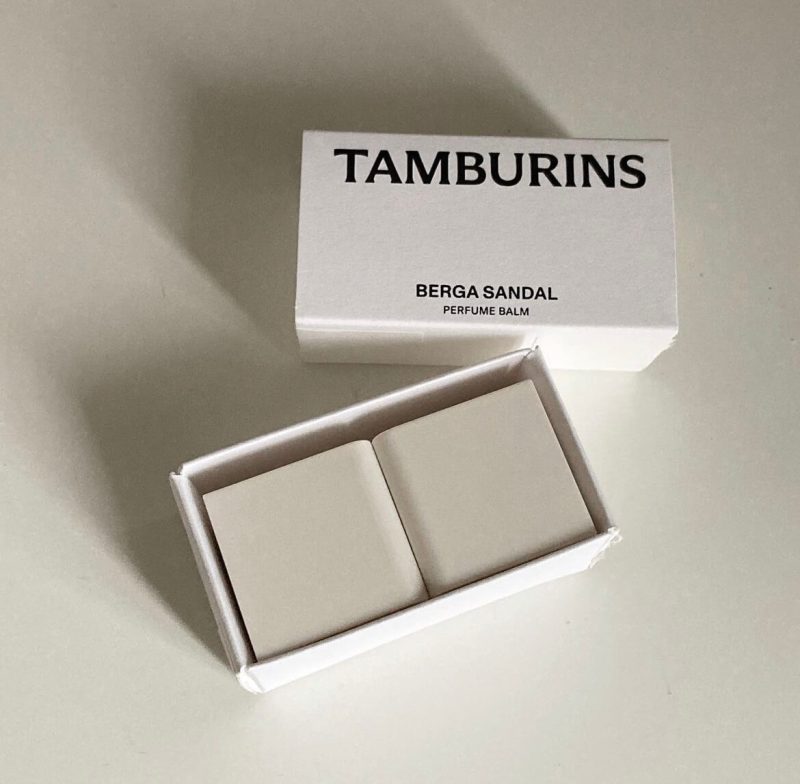 Chamo
The herbal scent of chamomile, thick and sweet like honey, and bitter clary sage create a subtle harmony to create an addictive scent. The feeling of moist moss, which can feel cold, is wrapped in elegant and soft wood grain blonde wood and warm musk to present a special and small comfort to your weary heart.
Lale
Lare, which means the first name of tulip, starts off with a refreshing yet restrained sweetness like taking a bite of a neat green apple soaked in the dew of dawn, and the scent of calm green florals reminds you of the fresh green leaves of white tulips. Spicy mood leather and mimosa are added to the thick sandalwood, leaving a deep and subtle aftertaste.
Berga Sandal
The fresh and bitter scent of lime cardamom is added to the refreshing scent of bergamot grown in the green energy of the Mediterranean Sea, reminding you of green tangerines slowly ripening under the warm sunlight. Subsequently, the soft curves of sandalwood linger around and draw warm memories of sunny summer days.
Suede Pear
The cool scent of the soft flesh of a pear wrapped in layers of suede and the bittersweet taste of galbanum presents the unique twist of suede pear. The middle notes of whiskey aged with great care for a long time add to the depth of time and are tied with the heavy weight of amber musk.